We love working with other designers and makers to create unique pieces. Below are some of the Collaborations We have worked on with some very talented ladies!!
These dreamcatchers were a collaboration with the very talented Kate from The Little Beastie. Kate used our hand rolled clay beads to create 7 very unique limited edition dream catchers. Kate was so much fun to work with and we hope to work together on a project again soon.
Check out her page for some incredibly unique weaves and other decor items and contact her for custom designs and enquiries.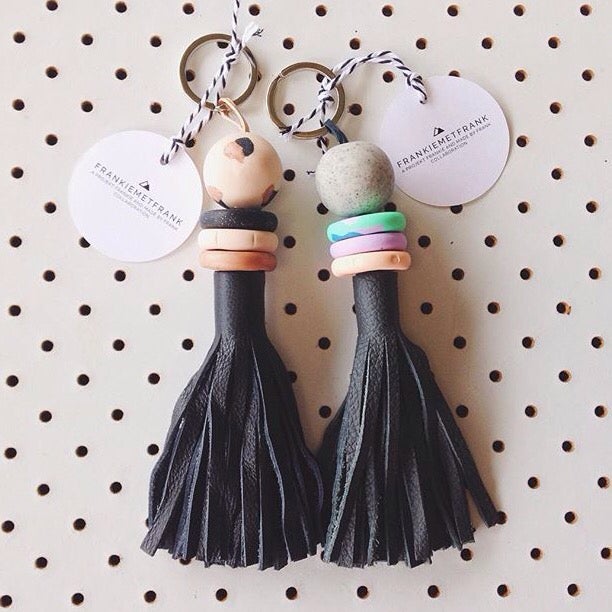 These clay bead and leather tassel keyrings were a collaboration with Made By Frank. We have always wanted to work with leather and introduce some tassels into our range so we couldn't help ourselves when we came across this lady's handiwork!
And so FrankiemetFrank was born! All of Bec's leather is locally sourced in QLD and the tassels are hand cut and made around my Clay beads. Keep an eye out for some more of these available on the website soon in some new colours too!
Make sure you check out Bec's great range of washable paper storage bags, totes, clutches and leather pieces over at Made By Frank.
These fun Plant Hangers were created as a collaboration with Noodie and Frank. Nikki makes a huge range of different plant hangers and other macrame decor items, she is also a Geelong local so with a love for decor and colour so it made sense to put our products together and come up with a fun collaboration.
These 'Mini Frankie's' are available for purchase on her website at Noodie and Frank and Nikki also takes custom colour orders.
When Sophie Vine came to me with some amazing Boho inspired garland designs I was all ears! This collaboration with Vines Of The Wild was by far one of my highlights for 2015. It challenged me and took me outside the box of my usual everyday work and I was blown away by the finished product!
Sophie has put together an amazing collection of collaborations by local Australian makers so be sure to go and check these out on her website Vines Of The Wild.
*Previous collaborations have been designed by previous Projekt Frankie owner, but we are looking forward to collaborating in the future*